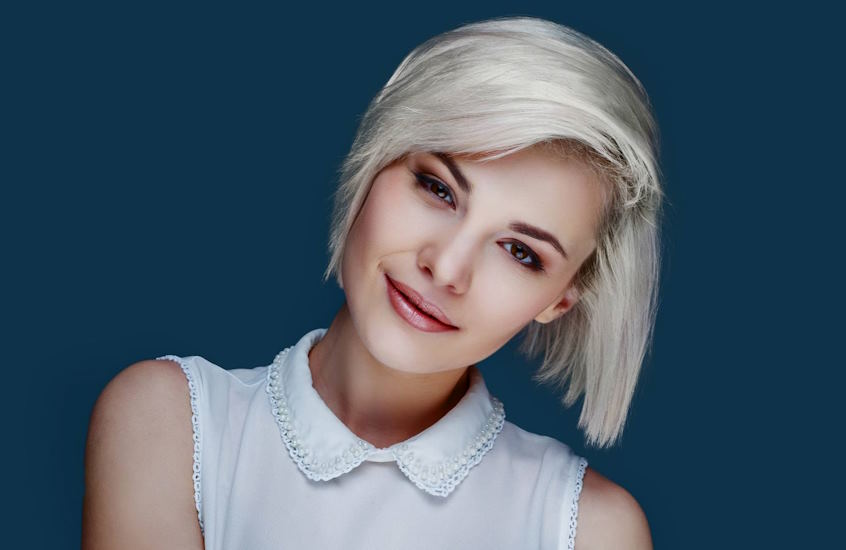 Hair Techniques
Hairstyles for Different Hair Colors: Enhancing Your Shade with the Right Look
Choosing the perfect hairstyle can be a transformative experience, especially when it comes to enhancing your natural hair color. Whether you're a radiant blonde, a sultry brunette, a fiery redhead, or even rocking an unconventional shade, the right hairstyle can complement and elevate your hair color to new heights. From chic and sophisticated cuts to playful and whimsical styles, get ready to discover the perfect hairdo that will make your color shine like never before. Say goodbye to hair monotony and embrace the power of the right hairstyle to unlock your hair's full potential.
Hairstyles for Blonde Hair
Blonde hair is often associated with radiance and lightness, and the right hairstyle can enhance its brightness even further. If you're a proud owner of blonde locks, it's time to discover the best haircuts and styles that will make your hair shine like never before. Let's dive into the world of hairstyles tailored specifically for blonde hair and explore different shades to find the perfect look for you.
Best haircuts and styles to enhance the brightness of blonde hair:
Pixie cuts for a chic and modern look:
Embrace the short and sassy with a pixie cut. This bold and daring hairstyle not only showcases the brightness of your blonde hair but also exudes confidence and style. With its cropped length and tapered sides, the pixie cut is perfect for those seeking a low-maintenance yet fashionable look.
Beachy waves for a relaxed and effortless vibe:
If you prefer a more relaxed and carefree hairstyle, beachy waves are the way to go. This tousled and effortless look perfectly complements the laid-back nature of blonde hair. Achieve those loose and textured waves by using a curling iron or salt spray for that beach-inspired allure.
Long layers for added dimension and movement:
Long layers are a fantastic choice for blondes looking to add depth and movement to their hair. By incorporating layers throughout your locks, you create dimension and texture, making your blonde hair appear fuller and more vibrant. This versatile style allows for various styling options, from sleek and straight to bouncy curls.
Hairstyles that work well with different shades of blonde:
Platinum blonde: edgy bob or sleek ponytail:
Platinum blonde hair demands attention, and an edgy bob or a sleek ponytail can beautifully showcase its icy allure. The sharp lines of an edgy bob create a striking and modern look, while a sleek ponytail adds sophistication and elegance.
Honey blonde: loose curls or braided updo:
Honey blonde hair has warm and golden undertones that pair perfectly with loose curls or a braided updo. The soft and romantic curls enhance the lusciousness of honey blonde locks, while a braided updo provides an elegant and polished look for special occasions.
Ash blonde: textured lob or messy bun:
For those rocking ash blonde hair, a textured lob or a messy bun can amplify the cool and ashy tones. A textured lob, or long bob, adds a modern and edgy vibe to your hair, while a messy bun exudes effortless charm and highlights the unique shade of your ash blonde locks.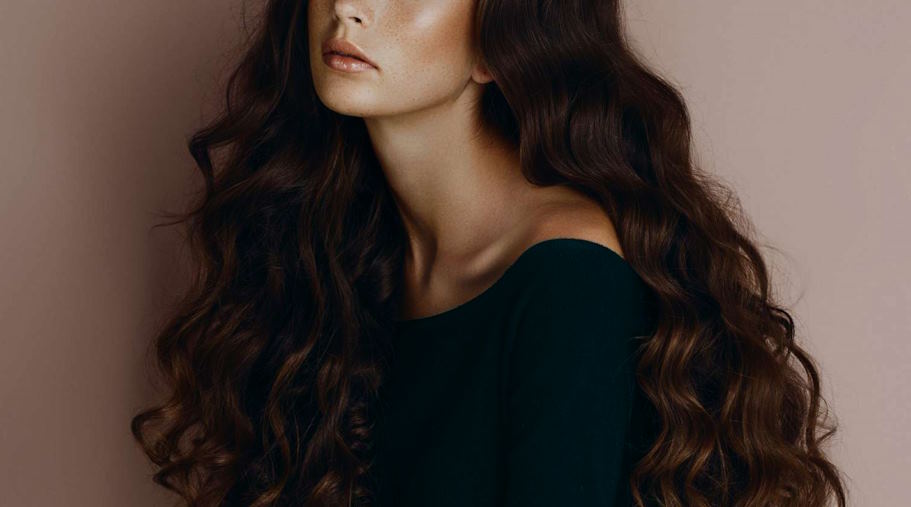 Hairstyles for Brunette Hair
Brunette hair is known for its richness and versatility, and finding the right hairstyle can enhance its natural beauty even further. Whether you have chocolate brown, chestnut brown, or auburn brown locks, there are flattering haircuts and styles that can bring out the best in your brunette hair. Let's explore the world of hairstyles tailored specifically for brunette hair and discover the perfect looks for you.
Flattering haircuts and styles for various shades of brown hair:
Shoulder-length bob for a versatile and elegant look:
The shoulder-length bob is a classic and timeless haircut that works wonders for brunette hair. It offers a balance between short and long, providing versatility in styling options. Whether you keep it sleek and straight or add some waves for texture, the shoulder-length bob exudes elegance and sophistication.
Straight and sleek for a polished and professional appearance:
If you're aiming for a polished and professional look, straight and sleek hair is the way to go. This sleek style complements the smoothness of brunette hair, giving it a sleek and glossy finish. Use a flat iron and some heat protectant to achieve that straight and shiny look.
Curly or wavy layers for a youthful and playful vibe:
Adding curls or waves to your brunette locks can bring out a youthful and playful vibe. Layered cuts with curls or waves create movement and texture, making your hair appear voluminous and bouncy. Embrace your natural texture or use a curling iron to enhance the curls and waves.
Hairstyles that complement different brunette tones:
Chocolate brown: side-swept bangs or half-up ponytail:
For those with chocolate brown hair, side-swept bangs can beautifully frame the face and add a touch of sophistication. Alternatively, a half-up ponytail offers a chic and effortless look, showcasing the richness of your chocolate brown locks.
Chestnut brown: voluminous curls or low bun:
Chestnut brown hair pairs wonderfully with voluminous curls. Embrace your natural curls or use a curling wand to create loose and bouncy curls that accentuate the warm tones of your chestnut brown hair. Alternatively, a low bun adds an element of elegance and allows the color to take center stage.
Auburn brown: long layers with highlights or braided crown:
Auburn brown hair has a reddish undertone that can be beautifully enhanced with long layers and highlights. Long layers add movement and dimension to your hair, while well-placed highlights can bring out the warmth and richness of the auburn tones. Alternatively, a braided crown adds a bohemian and whimsical touch to your auburn brown locks.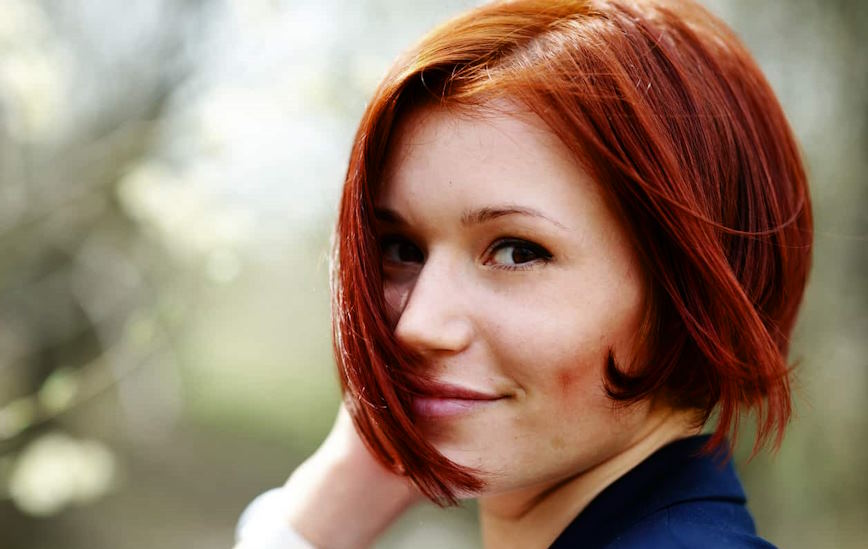 Hairstyles for Red Hair
Red hair is undeniably eye-catching and unique, and the right hairstyle can enhance its vibrancy and make a bold statement. Whether you have fiery copper red, soft strawberry blonde, or deep red locks, there are stylish haircuts and styles that can beautifully complement your red hair. Let's explore the world of hairstyles tailored specifically for red hair and discover the perfect looks for you.
Stylish haircuts and styles that enhance red hair's vibrancy:
Blunt bob for a bold and modern statement:
Embrace the power of a blunt bob to make a striking and modern statement with your red hair. This sleek and sharp haircut accentuates the intensity of your hair color, creating a strong and confident look that turns heads wherever you go.
Loose waves for a romantic and whimsical look:
Red hair has a natural romantic allure, and loose waves enhance this vibe beautifully. This hairstyle adds softness and movement to your red locks, creating a whimsical and dreamy look that perfectly complements the vibrancy of your hair color.
Updo with face-framing tendrils for an elegant touch:
If you're looking for an elegant and polished hairstyle, an updo with face-framing tendrils is a wonderful choice. This sophisticated style allows you to showcase the richness of your red hair while adding a touch of softness and framing your face beautifully.
Hairstyles that complement different shades of red:
Copper red: messy top knot or fishtail braid:
Copper red hair calls for hairstyles that embrace its fiery and vibrant nature. A messy top knot adds a playful and effortless touch, while a fishtail braid showcases the intricate texture and depth of your copper red locks.
Strawberry blonde: tousled pixie cut or half-up twisted style:
For those with strawberry blonde hair, a tousled pixie cut adds a youthful and playful charm. This short and textured haircut perfectly complements the softness of strawberry blonde locks. Alternatively, a half-up twisted style adds an elegant and romantic touch to your hair, highlighting the delicate tones of strawberry blonde.
Deep red: sleek high ponytail or voluminous side-swept curls:
Deep red hair deserves hairstyles that exude confidence and glamour. A sleek high ponytail pulls back your hair, showcasing the richness of the deep red color while adding a modern and polished vibe. Voluminous side-swept curls, on the other hand, create a glamorous and romantic look, enhancing the depth of your red locks.